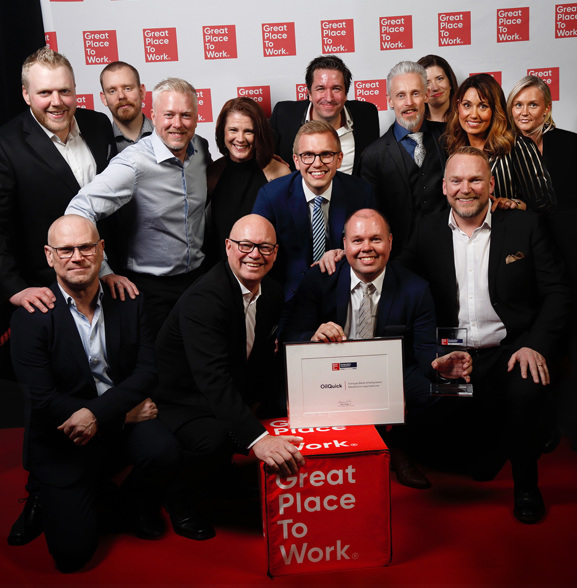 We are a Great Place to work
As we spend a lot of time at work, it is vital for us to have a good working atmosphere and to have fun together.
Since 2019 we were named as one of Sweden's best workplaces according to the Great Place to Work. This is the result of a long intensive work in which the employees have been highly involved and in which the company has given priority to evaluating the employees' needs and wishes.
Since 2020, were also named as Sweden's Best Industrial Company and in 2020 our HR manager Malin Lindqvist was named "HR Personality of the Year". Her ideas and her drive have been a strong contributor to the commitment and good friendship that prevails with us.
OilQuick's philosophy is that it will be more cost-effective and much more fun to work proactively with a satisfied and happy staff. If the employees feel good, they perform well! We have developed a corporate culture that has created increasingly satisfied employees.
Welcoming & closing
We believe that starting a business can be crucial to your continued well-being.
Many people remember how they were received at a new workplace and therefore it is important for us to make this a positive experience. We care about the employee and want to give a good introduction that makes the person feel welcome with us. As a new employee, you get a solid introductory schedule to get a holistic view of the company and to meet your colleagues. This will be sent out two weeks before the start date together with a welcome gift. We keep in touch with the new employee and prepare so that all equipment is in place on the first working day. On the first day, the new employee is also invited to lunch with their boss. Upcoming middle-year students are courted by their student. Their terms of employment and introduction are the same as those of other new employees.
Employees who are committed often get a quick career development within the company, but if an employee chooses to move on to another company, we are always encouraging. If you choose to end your employment, after six months you will receive a bouquet of flowers with a "Good luck at your new workplace".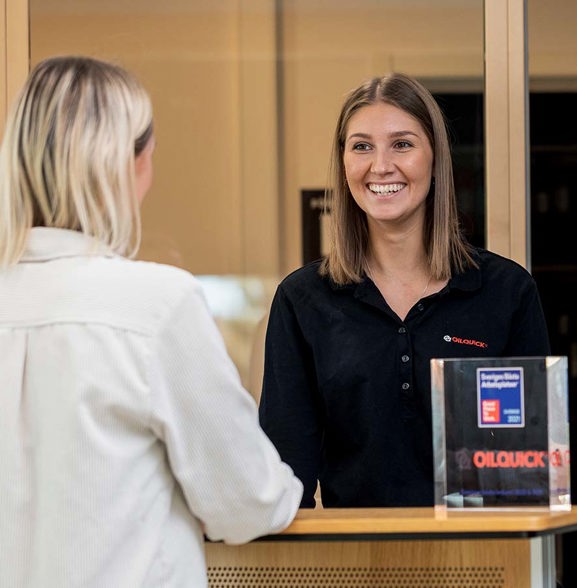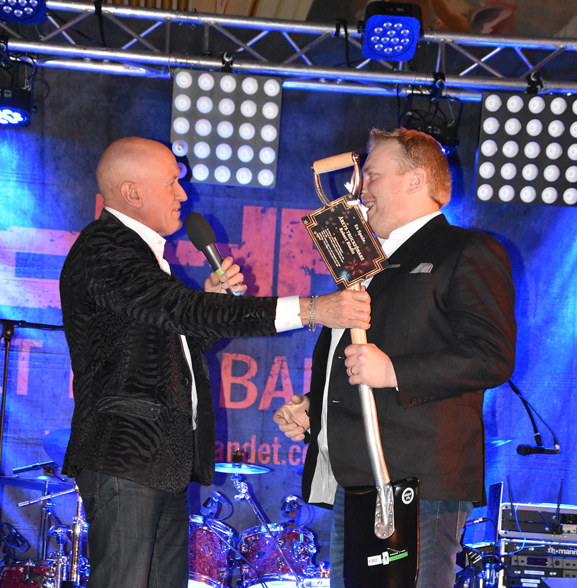 Show appreciation
For us, it is important that our employees feel appreciated. We do a lot of things during the year to show this.
OilQuick places great emphasis on showing appreciation to employees and invests heavily in benefits and joint activities. The purpose is to give back to the staff and to create community, security and joy, both in the workplace and outside. We believe that justice creates well-being, greater commitment and smaller gaps. With us, everyone is equally valuable and equally important to the organization regardless of position.
At OilQuick, we celebrate not only numbers but also achievements. We believe in giving and taking and with us everyone is equally valuable, regardless of position. We show appreciation to our talented and committed employees by giving feedback, fun experiences and gifts.
We celebrate most holidays and then usually offer coffee. Before the holidays start, a summer party is arranged and the employees also receive a summer gift. Lucia is celebrated with Lucia trains and coffee. For Christmas, everyone gets a Christmas present and we also hold a Christmas party for employees incl. their respective.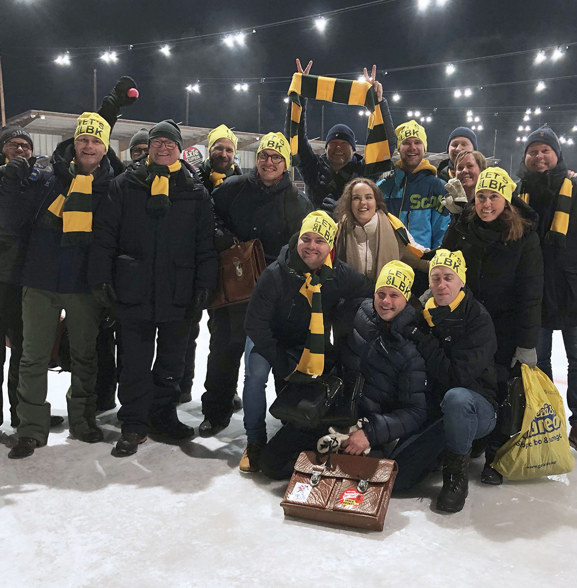 When someone works overtime after a certain time, the company offers them dinner. This applies to all employees and they can choose between local restaurants which then invoice the company. It is a small but appreciated gesture from the company as a thank you for the employees showing up.
Employees and respective have the opportunity to attend free local events such as hockey, floorball, football, etc. In return for sponsoring us, we always ask for free tickets that our employees can use. The company sponsors the local golf club and has negotiated a green card for our employees and their respective. We also offer lower prices on golf lessons.
When an employee has a child, he or she receives a package delivered to the home with a gift for the child and a greeting card. A deluxe breakfast buffet is served each morning at a subsidized price. The employees' children are invited to Christmas crafts at the company and in the meantime, the parents can buy Christmas presents. The day ends with a joint porridge coffee.
All employees have the opportunity for massage during working hours, they can also book car wash during working hours. The car is picked up and returned to the company during the day.
Community involvement
We believe in own hometown and we want to be part of making a difference. For us, it is important to contribute to good public health, increased growth and an attractive city. Social benefits and the supply of skills are close to our hearts.
We work closely with schools, associations and other companies in municipalities. We accept PRAO students and study visits, everything from preschool classes to pensioners' associations. Every year, we receive middle-year students and offer APL places to young people from technology and industry-oriented high school programs. We are active in Industri College and the hydraulics cluster and we are also positive about collaboration at EX-jobs with university students.
We have our own project which we call "OilQuick heart thing" where the intention is to assist local schools and preschools with equipment of various kinds. Every year we have used a theme that we think is right in time, it has been everything from sports equipment to programming robots and gift-free toys. We make the decision regarding how many are granted depending on the number of applications.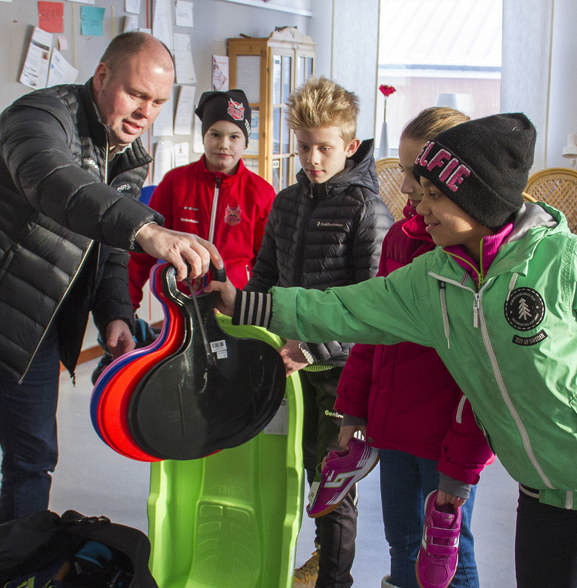 We want to promote trade in our hometown and the surrounding area and therefore use local companies as much as possible. We also have a collaboration with most stores that give our employees a staff discount.
When it comes to sponsorship, we primarily invest in children and young people and in local associations. We have a breadth in our sponsorship and would rather give a little to many than a lot to a few, we also spread between different types of sports.