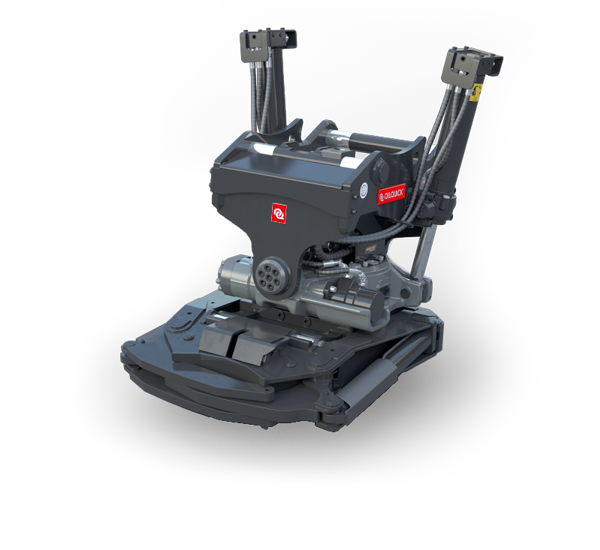 OQTR-E
OilQuick tiltrotators automatically increase your flexibility and efficiency
Supplements & options
Control system
OilQuick enables you to choose a control system to suit your excavator and other options. Whichever system you choose you can rest assured it will meet both current safety requirements and the coming ISO 13031 standard. Whichever control system you choose, you get OQ Lock Support® - an advanced electronic monitoring system that always confirms that the attachment is correctly coupled.
OQCS-4. Control system for OQTR-E
Our own system with directional valves that enable switching between the tilt function and an extra hydraulic function on the tiltrotator. This system is also used to control the attachment coupler on the tiltrotator. The system is designed for control by double hydraulic functions from the machine. If permitted by the machine, the tilt and rotation functions can be used simultaneously.
DC2. Proportional control system for OQTR-E
Engcon's proportional control system DC2 is suitable for all excavators and can be obtained with wheel or track control, as well as boom swing via the machine's joysticks. Connect your smartphone to DC2 via Bluetooth and shift between different driver profiles or make speed settings.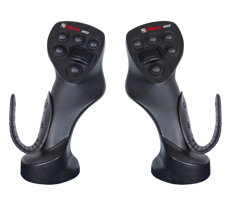 MIG2 Joysticks
MIG2 Joysticks for OQTR-E for excavators combine maximum ergonomics and functionality. The grip is developed for maximum ergonomics, without sacrificing the requirements for increased safety and more control functions.
In combination with DC2, the joystick can be operated with three rollers and seven buttons, which are doubled with two joysticks. The operator can thus work maximally efficiently and at the same time spare the body from strenuous movements and posture.
The grip contains an integrated hand support on which the hand can rest without affecting the excavating movement. The hand support is flexible and can be adjusted to different sizes of hand.
MIG2 is not only ergonomic, it also gives the operator new work possibilities. The grip's rollers are designed for the thumb, index and middle fingers In this way, the driver can combine all six rollers at the same time if necessary.
Positioning system
ePS. Positioning system for OQTR-E
ePS is optimised for engcon's DC2 control system, the wiring for ePS is integrated with the wiring for DC2. All OQTR-E models come with ePS as standard and together with the machine's excavator system it gives maximum control over the position of the attachment.
ePS sends signals to the selected excavator system and thus reduces the need for traditional surveys. The operator can see the exact area to be excavated via the machine-control system's display in the cab. This precise control of the amount of excavated material, gives many advantages:
• Time
• Reduced fuel consumption
• Less machine and attachment wear
• Saves time for other units e.g. trucks/dumpers that take away the excavated material.
• Adapted for the DC2 control system but can be installed on other control systems
• Completely independent of model or make of control system via its own cabling (if not DC2)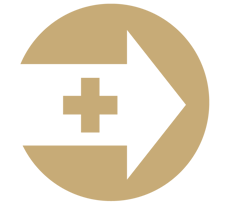 High-flow swivel
High-flow swivel allows the customer to run different types of flow-consuming tools. It enables a flow of up to 200 litres/min at 300 bar and gives completely new possibilities to use more types of hydraulic tools: Bushes, vibro-plate, sorting- and multigrips.
The swivel is also directly-mounted on the attachment coupler to reduce the risk of leaks, reduce pressure drops and increase the flow capacity.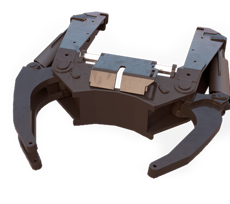 Grip
Grip is an effective grabbing and handling tool that makes your excavator even more versatile and can be used for most types of grapple work: Pipe laying, stone laying, lighter sorting work and more. The grapple module has rounded tines that close fully and can even be detached. Does not limit bucket manoeuvring when not in use.
The correct Grapple module for your OQTR-E:
| | | | | | |
| --- | --- | --- | --- | --- | --- |
| Model | OQTR-E09 | OQTR-E14 | OQTR-E19 | OQTR-E26 | OQTR-E33 |
| OQ45-4 | GRD10, GR20B* | GRD10, GR20B* | — | — | — |
| OQ45-5 | GRD10, GR20B* | GRD10, GR20B* | — | — | — |
| OQ60-4 | — | GRD20 | GRD20 | — | — |
| OQ60-5 | — | GRD20 | GRD20 | — | — |
| OQ RAIL | — | — | GRD70 | — | — |
| OQ65 | — | — | GRD70 | GRD70 | — |
| OQ70 | — | — | — | GRD70 | GRD70 |
| OQ70/55 | — | — | — | GR30* | GR30* |
| OQ80 | — | — | — | — | GR30* |
| * Integrated grip |   |   |   |   |   |
Previous
Next