Articles
"The best investment we could have made"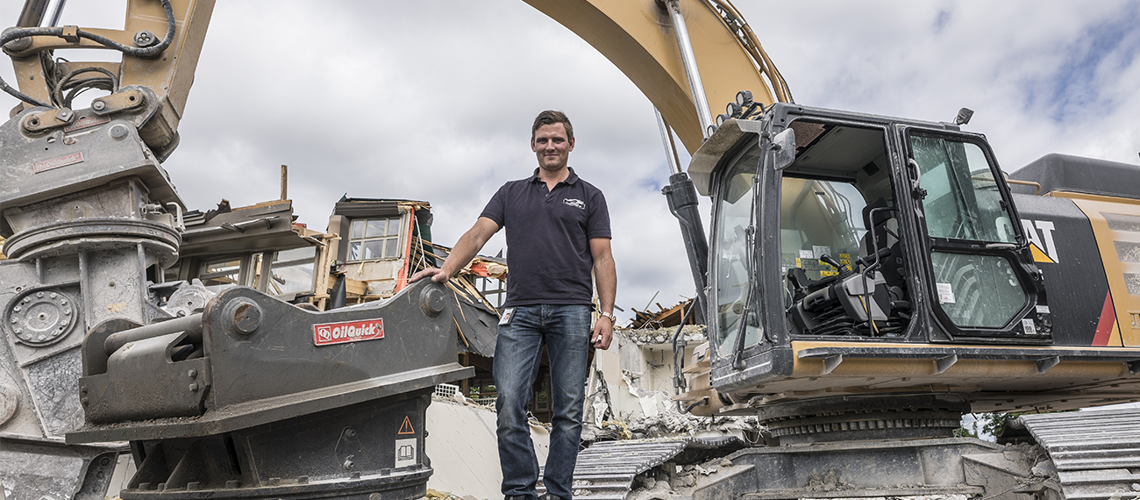 Jansson Entreprenad in Linköping currently has ten machines equipped with OilQuick. The quick coupler system has helped to increase productivity significantly. But that is by no means all. The machine operators now also enjoy their work much more.
"OilQuick has brought us endless advantages. It was the best investment we could have made. Now we always have the right work tool attached in every situation," says Victor Jansson, production manager at Jansson Entreprenad in Linköping.
We are on a building site in Uppsala where an office building is being demolished. At first glance it actually looks more like a war zone. But we soon see the situation is not as chaotic as it initially appeared. The demolition rubble lies piled up in neat heaps and it becomes clear the men are working systematically. Since the company invested in OilQuick quick couplers, their demolition work has gone much faster.
"Productivity has been greatly improved. Before we had OilQuick couplers, changing work tools could take 20 minutes or even up to half an hour if there were any problems. When using a large excavator, which costs the equivalent of around 200 euros per hour, changing a hydraulic tool can therefore involve expenses of 100 euros every single time. Considering that we need to change tools 10 to 30 times a working day, we can save a great deal of money over the whole year," says Victor.
One of the quick coupler's greatest benefits emerges when concrete debris has to be loaded onto lorries for disposal. "The period from when a vehicle leaves with the rubble until the next one returns to the site is about 20 minutes. Previously, it simply was not possible within that period of time to remove a hydraulic tool and attach a bucket, meaning that the machines stood idle while the men waited for the next lorry. Now they can carry on working until the next vehicle arrives. They then simply disengage the hydraulic tool, attach the appropriate bucket, and start loading the demolition debris without delay."
It is not only the production manager however who is taken with OilQuick's advantages. The operators also benefit from them. "They are extremely pleased with the OilQuick quick couplers. In fact, they enjoy their work much more now, as connecting and disconnecting hydraulic hoses at frequent intervals could hardly be called fun. If we didn't have OilQuick, I don't know whether our reliable operators would all still be working for us. They have stayed with us at any rate and come to appreciate the merits of working with OilQuick," adds Victor Jansson.
Regarding customer service, he also has nothing but praise for OilQuick. When they need spare parts, for example, delivery is always prompt. "Service is excellent. Contacting the sales staff at OilQuick is no trouble at all. They always take time and listen to our needs," says Victor Jansson.
Click the link to watch the video on our You Tube channel