Articles
22 August 2017
"It's like a revolution"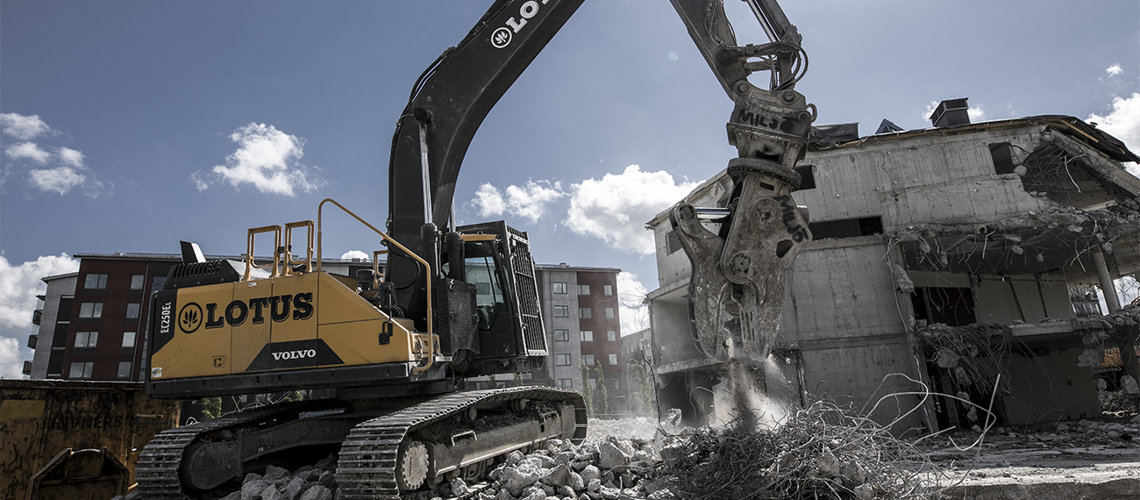 Three years ago, Lotus Maskin & Transport bought a second-hand machine that had an OilQuick system on it. It was the first time they had encountered an OilQuick quick coupler. Today, the company cannot imagine going back to conventional couplers at all.
"When we saw how much money the system could save us, we decided to successively switch over to OilQuick on all our machines. In fact, experience over the past two years has shown that everything runs much more smoothly now," says Sonny Källgren, who manages the demolition work at Lotus Maskin & Transport. 
We meet him and his team on an NCC demolition site in Uppsala. They are using four machines to knock down an office building. We ask one of the excavator operators, Peter Skoglund, whether he would consider working again without the OilQuick quick coupler.
"That would be like going back in time. The work used to take a lot longer, was messy and hard going because we had to change the hydraulic oil hoses. OilQuick saves you so much time, equipment and everything. And, what's more, you don't have to handle any dirty oil hoses. It's like a revolution," exclaims Peter.
He shows us how to change tools from inside the cab with OilQuick. We are impressed that it is so quick and effortless. "You simply press this button and then the other button. Next, you put down the work tool, attach another one and reset the button, that's it. It all just takes ten seconds. What an improvement. The whole operation used to take ten minutes," explains Peter. 
Before they started using OilQuick, he often did not bother changing attachments because it was such an effort to get down from the cab, connect the hoses and then climb back up again. "In those days, we rarely left the cab to change a tool, it was simply too much work. We just carried on working with one tool, even if its service life was greatly reduced as a result. 
As the excavator operators no longer have to get in and out of the cab so frequently, the health risks are also minimised. "I'm glad such operations are a thing of the past now, as I'm sure they're not good for the knees in the long term," says Peter.
"OilQuick is also a very good choice from an environmental point of view," adds Sonny. "Whenever you change a hydraulic hose, a little oil can leak. The OilQuick quick coupler however prevents such spills by sealing the coupling."
Click the link to watch the video on our You Tube channel