Articles
7 April 2021
"For us it's about safety first"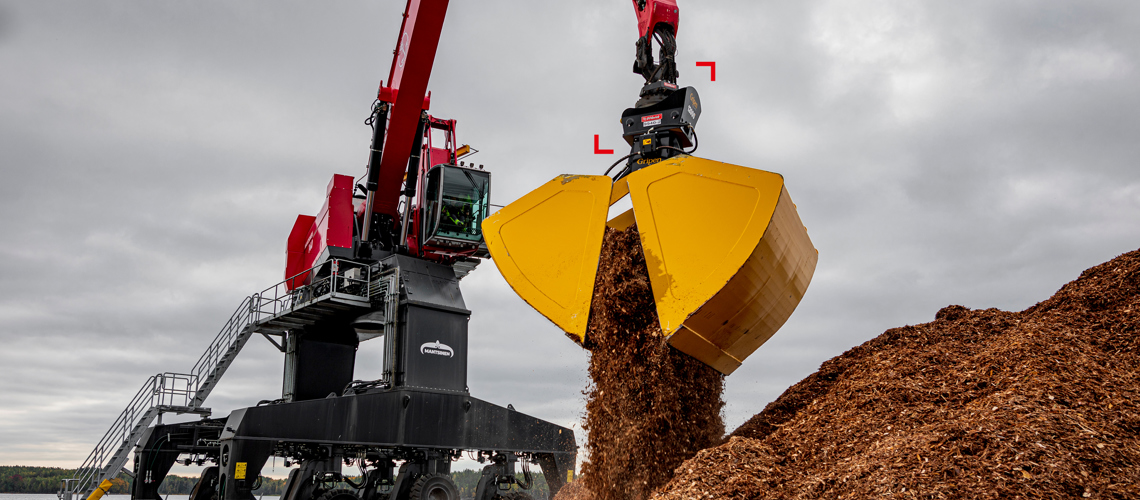 When Skärnäs Terminal invested in a new port crane they chose to equip it with an OilQuick system. This means that the crane operators can now easily and safely swap attachments without having to leave the cab.
"We want to ensure the safety of our staff when swapping attachments. They handle extremely large and heavy items that are under high pressure. If an attachment was to land on top of you it would be 'Thank you and good night'. If oil was to start leaking when an attachment was being swapped and you were standing underneath, the high pressure could literally blow you away. The OilQuick system allows attachments to be swapped easily and safely from inside the cab", says Per-Ola Larsson, Technical Manager at the Holmen-owned Skärnäs Terminal in Iggesund. 
Wanted OilQuick
The Skärnäs Terminal handles up to one million tonnes of forest products each year. Everything from cardboard goods to wood chips, bark, pulpwood and sawn wood products. Some time ago, one of the port's two cranes began to wear out and it was then decided to invest in a new one. A 192 tonne Mantsinen 140 was the crane selected, which has a range of 30 metres and can lift 8 tonnes when fully extended. It was also decided to obtain OilQuick's automatic quick coupler system at the same time.
"The crane already had a different quick coupler system. But we wanted one from OilQuick, because they are local to us and we have a very good, long-standing relationship with them. Their service and commitment are also world-class. We have used the OilQuick system on our wheel loaders for some time and we know it is a high quality system that works well", he says.
Complicated manual swapping
Manually swapping attachments on a terminal crane is a cumbersome process consisting of several steps.
"First the old attachment has to be placed on the ground, the machine shut off and depressurised. Then the operator has to exit the crane, disconnect the hydraulic connections and unscrew them. Then the operator has to get back into the crane and twist off the relevant connector. When the new attachment is to be attached, the operator has to jump down again and make the connection. This whole process can take a long time if alone. It is easier with two people.
With the new OilQuick-equipped crane the operator can easily perform the swap from inside the cab. Without having to go out into the cold and getting dirty. It eliminates the risk of being run over, falling or slipping", explains Per-Ola.
A question of safety
Swaps mostly take place when it is time to load or unload a new ship. Also, when two different types of material are to be loaded onto the same ship, but that does not happen often.
"We do not make frequent swaps. That is not why we made the change. For us the primary fact is that OilQuick increases the level of safety. Obviously, the crane operators also appreciate the convenience of not having to run up and down the crane when they change attachments, which is an added bonus", he says.
Multiple and durable attachments
Multiple attachments are required due to the fact that so many different types of goods are handled.
"We have timber grapples, wood chip buckets, automatic yokes for sawn wood products, automatic yokes for pulp and ordinary hooks, so we have a lot of attachments that we can switch between.
When the attachments are not being used they are stored in a specially-built stand, which also makes them easily accessible when they need servicing. The attachments are very durable as they have to lift large amounts at a time and withstand harsh use.
"When we went to HSP Gripen in Hudiksvall to order a wood chip bucket, they told us that they didn't make buckets that large. You do now we replied", says Per-Ola and laughs.
Reduction in incidents
Per-Ola can clearly see that the OilQuick investment will pay for itself in the form of fewer work-related injuries.
"Absolutely". We will definitely see reduced numbers of incidents just in attachments swaps. I would recommend everybody who works with material handling to invest in OilQuick", he ends.
Watch the video on Youtube here