Articles
"OilQuick gives you more time for other things"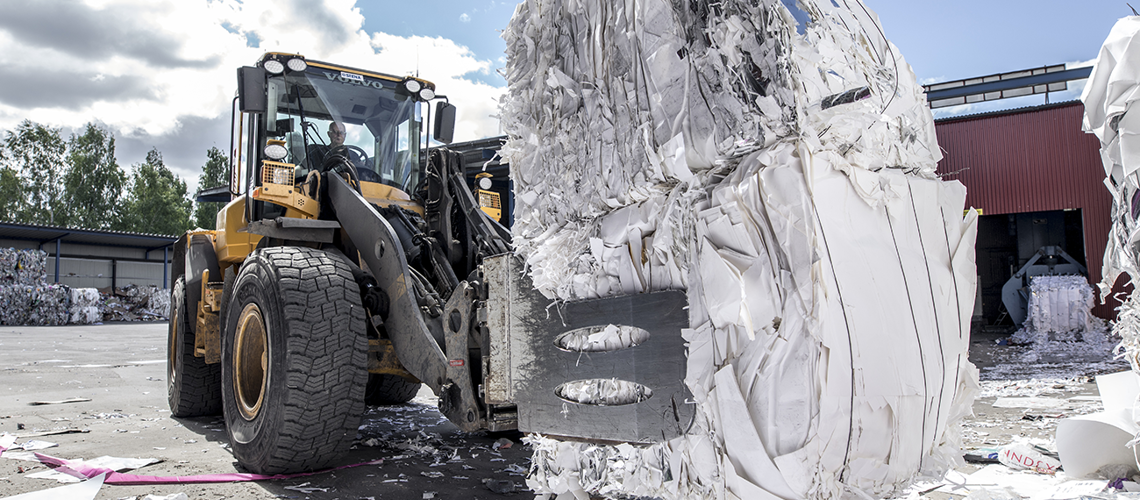 At Stena Recycling in Hudiksvall, it is not unusual for work tools to be changed up to 50 times a day. Thanks to OilQuick, machine operators no longer need to leave the cab to engage and disengage attachments. That saves a lot of time and reduces the risk of accidents.
"Before, whenever we wanted to change over to a bale grab or adjustable fork, we had to get down from the wheel loader and connect the hoses. Now we can stay in the cab and control all the functions from there. This has speeded up our operations as a whole and greatly improved working conditions," says Anders Hallberg, who is employed in production at Stena Recycling in Hudiksvall.
Stena Recycling's main tasks are collecting and processing residual materials, such as corrugated cardboard, household plastic, metal, packaging and industrial waste. Three wheel loaders are in use at the company's Hudiksvall facility, all of which are equipped with an OilQuick quick coupler system. Experience has shown that OilQuick pays off when hydraulic tools are changed twice or three times per working day. For a company where they are more likely to change work tools up to 50 times on any one day the quick coupler's benefits are obvious. "We save a lot of time as a result. Time that we can put to good use instead of jumping down from the cab and connecting attachments," says Anders. 
In addition to saving time, we have also gained other advantages, for example improved safety. Anders explains: "We used to have to get down from the cab and back up again every so often, which meant there was a danger of falling and injuring yourself or coming into contact with oil when connecting the hydraulic hoses. OilQuick has eliminated these hazards."
Another bonus Anders has found with OilQuick is in relation to maintenance. "Up to now we haven't needed OilQuick to do any servicing. We can replace any defective parts ourselves. Service packages are available that are supplied with easy to understand instructions.
In addition, the quick coupler helps to lessen the impact on the environment. "When connecting hoses manually, hydraulic oil can leak. The OilQuick system prevents any such spills. Not one single drop of oil is lost, the system is completely sealed," explains Anders. 
Stena Recycling tested OilQuick for the first time in 2001. They were so pleased that all their wheel loaders have been fitted with the OilQuick quick coupler system ever since. "We couldn't contemplate going back to conventional couplers. It would be like driving a car from the 1970s. We've got so used to the convenience of working with OilQuick that we definitely don't want to do without it now," says Anders in conclusion.
Click the link to watch the video on our You Tube channel