Articles
6 February 2018
"Changing tools takes no time at all"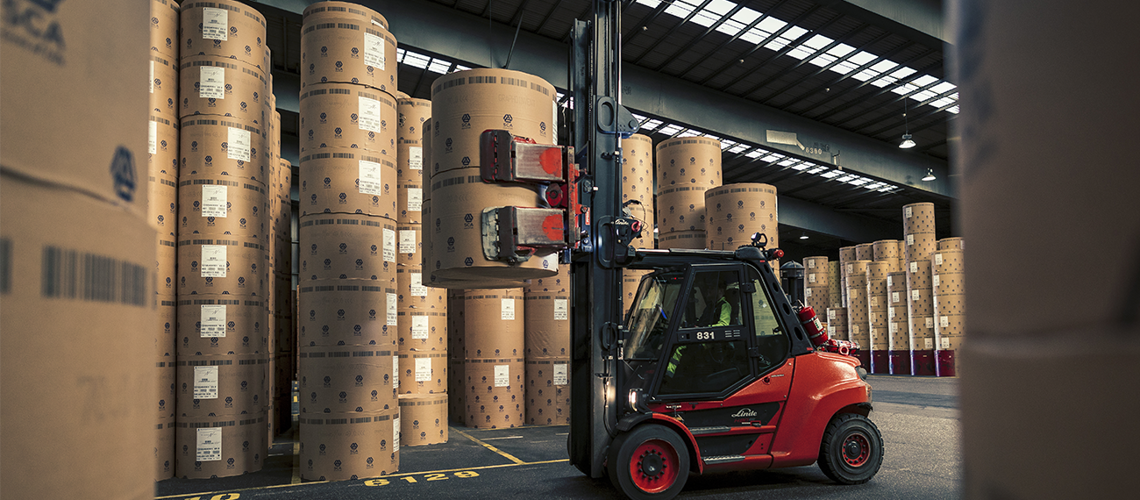 At the SCA Logistics terminal in Sundsvall, large volumes of goods from SCA facilities are loaded and unloaded round the clock. Given that handling cargo rapidly is crucial, operators have to be able to change between the various tool attachments quickly.
"OilQuick has enabled us to achieve significant improvements here. Our operators can now change attachments themselves, without even having to leave the cab. That makes a huge difference. Before, they had to go to the workshop and needed a mechanic to help them change work tools," explains Anders Jungdalen, a foreman at the SCA Logistics terminal in Sundsvall.
"We are in a warehouse at the terminal, which is a hive of activity. A number of forklifts are zooming around, unloading pulp from a truck that has just arrived." Anders tells us that most of the work tools they use are attachments for handling pulp and rolls of paper. When we ask him how OilQuick in particular made operations more efficient, Anders points to one of the forklifts and says: "This forklift, for example, is currently being used to unload pulp. In five minutes' time, we might need it to load rolls of paper. Luckily, it takes no time at all to change tools and the operator can get on with the next job. As everything can be done so quickly, we save a great deal of time, which naturally also reduces costs."
It is the fast tool changing times where Anders sees the major advantages gained with OilQuick. "A vehicle may arrive late in the evening with rolls that need to be unloaded quickly because the driver is in a hurry. The forklifts we have available may not however have the right work tool attached. That is no longer a problem for us, as we can now change tools rapidly."
Anders goes on to tell us that OilQuick also has various benefits in terms of safety. "The risk of crushing fingers or other injuries is minimised, since operators can stay in the cab and easily change the work tools from there. Another potential problem for us is oil leaking. We must not get any oil on our products, which is why it is so important for us to prevent leaks."
And what do the forklift drivers think about OilQuick? "They are very glad that their working conditions have considerably improved. As the warehouses tend to be cold in winter, the operators appreciate it when they don't have to keep getting out of the warm cab. Both our male and female forklift drivers say they are extremely pleased with the OilQuick system," says Anders summing up.
Click the link to watch the video on our You Tube channel